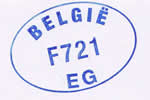 News
01.01.2021 : "Vleesbedrijf P. Wils" treated app. 14 MIO KG pork heads in the year 2020.
26.04.2021 : Meat Company P. Wils is complying with the BRC Global Standard for Food Safety. The company is certified to grade AA.
27/12/2017 : Vleesbedrijf P. Wils celebrates his 60 years anniversary. See inscription-document "Chamber of commerce": inschrijving handelsregister.